My Station
After many years living in deed-restricted communities, my wife and I decided it was time to move somewhere we could both agree on. She got her one-story house, I got my HF station!
We bought our house in August, 2010. It's on an acre of land, and the layout of the property provides a huge back yard, perfect for towers. Before we moved in, I wired the house for Ethernet, and installed a 6″ x 6″ box in the wall for the feedline runs.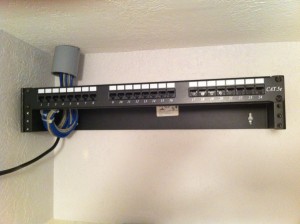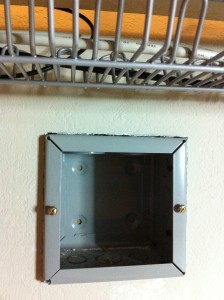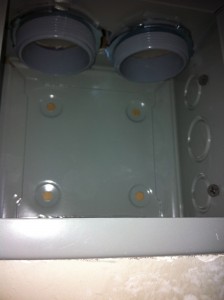 I started with wire antennas, just to get on the air. Having no HF radio, I purchased an Elecraft K3 kit. This radio is simply amazing.
Here's what the station looked like in October, 2010.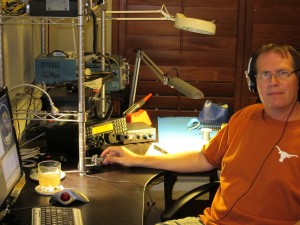 I started construction on the VHF tower in November, 2011. This tower is 35 feet of Rohn 25G house-bracketed to the garage. The coax run from the shack to the top of this tower is about 80 feet. I have a M-squared 6M5 5-element yagi for 6 meters, a M-squared 2M9 9-element yagi for 2 meters, and a JayBeam 12-element yagi for 432 MHz on this tower. They are turned by a M-squared OR-2800 "Orion" rotator.
Here are some photos of the VHF tower during various phases of construction.
Please specify a Flickr ID for this gallery
I learned some valuable lessons while digging for the VHF tower. The most important was the depth of the topsoil! For the HF tower, heavier equipment would be required. I started with a small backhoe, but quickly learned even that wasn't sufficient. I ended up with a Bobcat loader and a pin driver to hammer out the last two feet of the hole for the tower base.
The HF tower is 65 feet of Rohn 55G tower, guyed at 55 feet. I have a Force12 XR5 yagi on top for 20, 17, 15, 12, and 10 meters. 10 feet below that is a Force12 Delta 230/240 yagi for 30 and 40 meters. An 80 meter dipole runs between the HF tower and the VHF tower, putting it at around 50 feet AGL. I recently installed a 160 meter top-loaded vertical on the HF tower. More about that below.
Here are some photos of the HF tower during construction.
Please specify a Flickr ID for this gallery
The station configuration in October, 2011 is as follows:
HF: Elecraft K3
VHF: Elecraft K3 for 6 meters, Kenwood TR-751 with 150 Watt RF Concepts amplifier for 2 meters, Kenwood TR-851 for 432 MHz.
RX: K9AY loop for receive on the lower bands. It works great!
Misc: K1EL WinKey USB for automated CW generation, M2 OR-2800 control boxes for the rotators. Bencher CW keyer paddle that I've had since college. (I want a Begali so bad I can taste it!)
Shack Computer: Gateway I5 running Windows 7. I use DX Lab for logging and DX award tracking, N1MM Logger for contesting. I have a Digi 8-port USB to Serial converter that provides connectivity for the various pieces in the shack.
I recently decided to build a 160 meter top-loaded vertical. Read about this adventure here.
Updates as I make changes!